GMAT® Live Intensive – Online Classroom
IMS GMAT Programs are designed to cater to all level of students and will not only help you in building your foundation but also assist you in improving your score.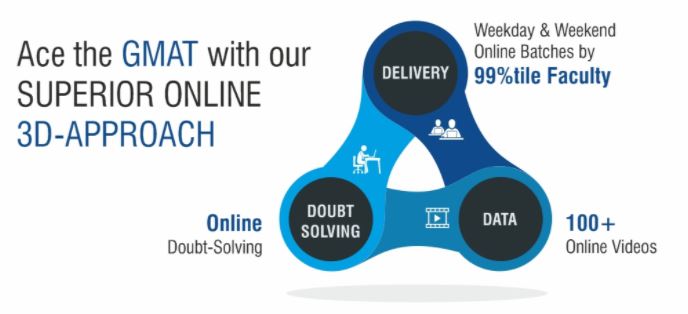 GMAT Live Intensive – Online Classroom Program designed by 99%ile faculty is the right fit for you, whether you are a working professional or a student who can not devote time to come to classes due to other commitments.
80+concept videos.
Live application classes.
15Mock Tests (5 Adaptive & 10 linear).
Online practice.
Access to advanced 700
Access to basic foundation webinars.
Access to recordings of all LIVE classes.
Attend both weekday and weekend batches remotely.
Complete the entire prep in 4 weeks.
Ongoing online doubt solving session with expert faculty.
Learn Module
80+ concept videos that comprehensively cover the basics required for the GMAT.
LIVE Application classes to make you understand the concepts tested on the GMAT.
Online Practice to ensure modular difficulty level wise practice.
Practice Module
Practice 5000+ questions across easy, medium and hard levels of difficulty. Our GMAT like Mock Simulators will ensure that you are prepared to tackle the mock tests and the actual GMAT exam.
Full-Length Test Module
15 Mock Tests:

5 adaptive mock tests.
10 linear mock tests prepared by IMS CIE expert faculty. Each of the tests is followed by a detailed solution and Performance Evaluation Report (PER).
GMAT 700+ Online Workshops
Monthly workshops will be conducted to help you increase your score. Recording the of workshop will also be available for viewing at a later date. These workshops are designed to teach you advanced concepts and applications. These workshops are based on the popular classroom workshops that we conduct at IMS CIE centers.
Complimentary Premium Webinars with Ivy League Alumni & Admission Committees
Program Name : 
 GMAT Intensive
Program Description :
GMAT Live for the Middle East
Program Delivered by :
IMS GMAT Experts
Program Highlights:
Number of Live Online sessions
16
Number of Hours of Live Online coaching
48
Number of One-on-one mentoring sessions with IMS Mentors
3
Number of Hrs of Learning Video content
25+
Number of full-length Mocks ( across 11 exams)
15
Number of books in Study Material ( hard copy set)
6
Number of Questions in the online question bank
4000+
Program Feature Details
IMS Programs are designed using our proven 'Learn-Practice-Test' (L-P-T) approach
Learn Module
Live online sessions
16
Learning Videos ( Concept-wise and chapter-wise)
25hrs+
Learn Module Questions
500+
Practice Module
Area wise questions
3500+
Test Module
Sectional Tests
68
GMAT non-adaptive Tests
10
GMAT Adaptive Tests
5
Other Learning Video content
Foundation Recordings
10 hrs
Access to Live Foundation Classes
Yes
Study Material 
Comprehensive Coverage with solutions ( hard copies)
6
Addons
Access to Consulting Webinars
Yes
Access to Test Prep Webinars
Yes